FDA Approved
Tested and approved.
We use only authentic products.
Non-Surgical
Radio-Frequency Treatment that works from the outside in.
Fast Results
Little to no downtime and results in a few weeks.
What are Platelet Rich Plasma (PRP) Injections?
Platelet Rich Plasma is made from blood drawn from the patient's own body and rapidly spun in a device called a centrifuge. This separation process isolates the red blood cells, the liquid portion of the blood, called plasma, and platelets which contain natural growth factors. PRP injections stimulate healing and the turnover of new skin cells which make it great for cosmetic procedures.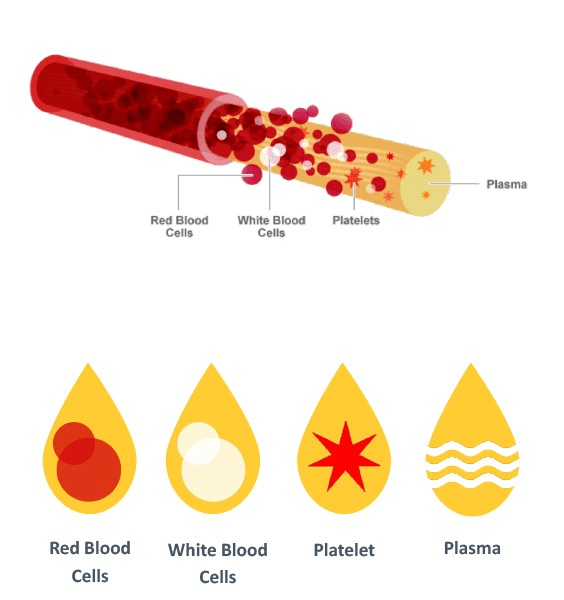 PRP treatments are also known to be used by orthopedic surgeons to treat chronic tendon injuries and muscle injuries in both professional athletes and non athletes such as tennis elbow, knee osteoarthritis and more. With its healing properties, platelet rich plasma therapy can speed up the healing process in tissue regeneration. The growth factors from PRP injections jump start the natural wound healing responses by signaling cells and chemicals involved in the tissue repair process. Lets talk more about all of the wonderful benefits of prp injections!
What are Platelet Rich Fibrin (PRF) Injections?
PRF, or Platelet Rich Fibrin, is considered the next generation of PRP injections. PRF is also spun in a centrifuge, but at a much slower speed causing less trauma to the whole blood cell, and bringing the bulk of white blood cells and platelets, not stripped of their fibrin, to the top. Similar to PRP, PRF is then injected to stimulate collagen and elastin production and improve volume, texture and tone of the skin.
What areas can be treated with PRP/PRF injections?
The great thing about PRP/PRF injections is that they can essentially be injected anywhere. One of the main areas treated is the under eyes to improve dark circles. Injecting the blood components to the under eyes increases blood flow in blood vessels in this area and stimulates collagen to help with puffiness and discoloration. Another area that is treated often is the scalp to promote hair growth for patients who suffer significant hair loss.
What are the benefits of PRP/PRF injections?
PRP/PRF injections are natural growth factors found in our own blood which can stimulate collagen production and new cell growth. Injecting PRP/PRF can treat fine lines and wrinkles, improve dark circles under the eyes, and stimulate hair growth. This treatment is really beneficial for patients who want to rejuvenate their skin in a natural and subtle way. Another main benefit is that there is little to no risk for any negative response/rejection of the injections from the patient's body.
Is PRF better than PRP?
PRF can be considered to be more advanced than PRP for a couple of reasons. PRF contains fibrin which is something PRP does not have. Fibrin is a protein with clotting characteristics which helps release growth factors at a slower rate to the area injected whereas PRP injection has an immediate release. This is going to provide the patient with longer lasting results in comparison to platelet rich plasma injections. As with any procedure, your provider may have seen individual results that are better in certain circumstances with prp injections so it is always best to talk to your provider about their experience.
| | |
| --- | --- |
| PRP/PRF injections | $500-$600 |
| PRP/PRF topical add | $300-$500 |
PRP / PRF Before & After Photos
PRP / PRF FAQ's
Is it better to microneedle PRP/PRF into the skin or inject it?
You receive similar benefits from both microneedling PRP/PRF into the skin and injecting it, but the main difference is when you inject, it goes deeper into the dermis and the results can last longer than microneedling. When you microneedle PRP/PRF into the skin, also known as the vampire facial, it typically addresses more superficial skin concerns like skin texture, acne scarring and pore size. When doing the microneedling treatment, it is still the patient's own blood being drawn and spun in the centrifuge, but instead of being injected, it is applied topically. When the treatment is done in a series of 3 spaced 4-6 weeks apart, most patients will see an improvement in pore size, skin texture, acne scarring and overall have younger looking skin.
How many treatments will I need with PRP or PRF?
With both PRP and PRF injections, you will need a series of 3-6 treatments spaced 3-6 weeks apart to see the best results. Depending on each patient, it can take up to 6 weeks for collagen production to take place in the area treated, but the patient will start to see a gradual improvement as soon as the initial treatment.
Is PRP better than dermal filler?
PRP injections and dermal fillers are both injectable treatments to add volume and rejuvenate the skin; however, platelet rich plasma injections are a more natural alternative. Since PRP is derived from the patient's own blood there is a minimal risk of an allergic reaction when injected. PRP injections stimulate the body to build new cells so the results take time to develop whereas dermal fillers add immediate volume to an area whereas. While dermal fillers are great to help restore volume in the face, it is nice for patient's to have another option that is more natural like prp injections.
Do PRP injections help for hair loss?
Just as PRP and PRF help for issues such as chronic tendon injuries, soft tissue injuries, joint injuries, pain and knee sprains, prp injections can also help with regrowing new hair! As with any treatment , discussion of your specific concerns and any family history of male pattern baldness can be done at your appointment in our Scottsdale clinic.
How should I prepare for my PRP/PRF appointment?
Before coming in for your PRP/PRF appointment, it is best to drink a significant amount of water and stay hydrated to make for a smooth blood draw. The more hydrated you are, the more benefits you will get from your PRP/PRF injections. It is also best to avoid blood thinners prior to prp injections as much as possible to reduce the risk of bruising.
What is the downtime with PRP/PRF injections?
Like any injection, it is possible to have some swelling, pain, redness and bruising at the injection site that can last up to 2 weeks following prp treatment. It's important the patient does not do any strenuous activities for 24 hours after their prp injection, like working out, so the product is not moved around. After 24 hours following prp injection, patients are welcome to continue regular activities.
What is the cost of PRP/PRF injections in Scottsdale?
The cost of PRP/PRF injections ranges from clinic to clinic, but the average cost is usually between $500-$2,000 per treatment. It varies from patient to patient on how many vials are needed based on the concerns they are wanting to address, but the patient will typically need about 3 rounds to see the desired results from the injections. Please see our website or call our office for the most up to date pricing.