FDA Approved
Tested and approved.
We use only authentic products.
Non-Surgical
Radio-Frequency Treatment that works from the outside in.
Fast Results
Little to no downtime and results in a few weeks.
What is PiXel8-RF
PiXel8-RF microneedling is a minimally invasive Radio Frequency system that will disperse gold plated micro­needles into the dermis and bi-polar RF energy to produce dramatic skin tightening and skin rejuvenation and can be used on all areas of the body. The heat is driven deep to stimulates and remodel collagen and prompts the elastin cells to regenerate. The treatment requires little to no downtime and results in a skin surface that is firmer, smoother, and more even complexion. PiXel8 combines the latest advancement to improve skin health. PiXel8-RF is safe for all skin types and textures.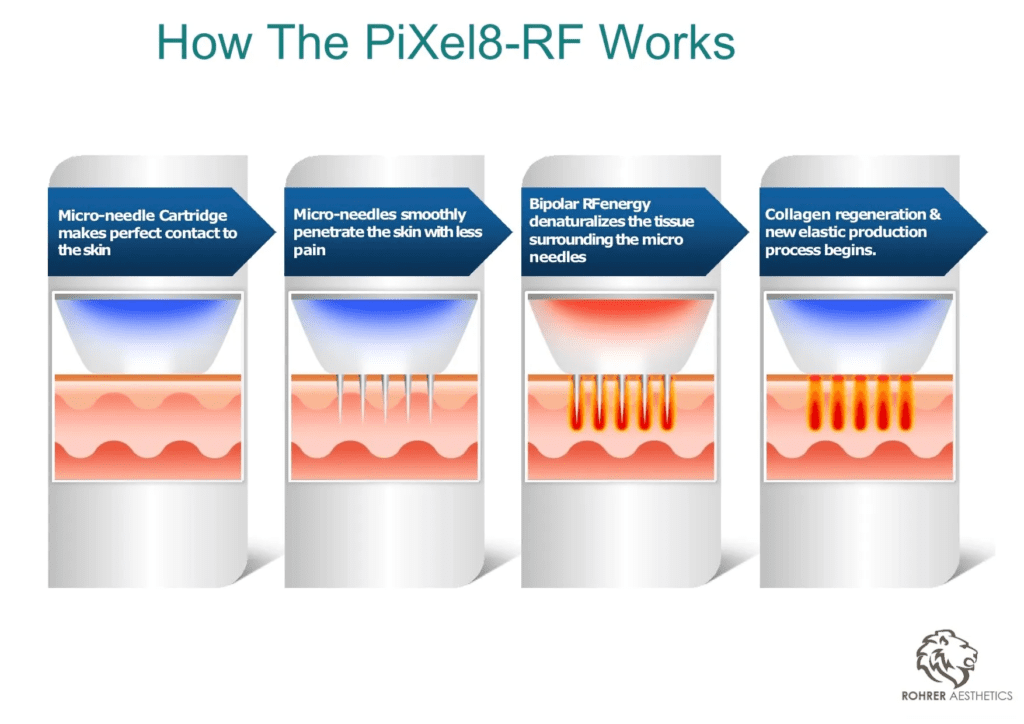 What does PiXel8-RF Treat?
PiXel8-RF microneedling is used for a wide range of dermatological treatments including:
Skin tightening
Wrinkle reduction
Acne scars
Skin tone and texture improvement
Pore reduction
Acne scar reduction
Double chin reduction
Jowl lifting
Eyebrow lifting
Neck lifting
Hand rejuvenation
Stretch mark reduction
What areas can be treated with PiXel-8?
Face
Neck
Decolletage
Hands
Thighs
Buttocks
Arms
Abdomen
Is PiXel-8 better than traditional microneedling?
PiXel8-RF is shown to give more significant results due to the radio frequency that comes with the PiXel8-RF. Traditional microneedling is typically done in conjunction with Hyaluronic acid placed on the skin then microneedled in. The radio frequency within the PiXel8-RF gives non surgical skin tightening results unlike traditional microneedling.
| | |
| --- | --- |
| PiXel8-RF Face or Neck | $550 |
| PiXel8-RF Face + Neck | $650 |
| PiXel8-RF Face + Neck + Dec | $800 |
| PiXel8-RF One Body Area | $800 |
| PiXel8-RF Hands add-on | $150 |
PiXel8-RF Before & After Photos
PiXel8-RF FAQ's
How long does PiXel8-RF last?
Results can be seen after one session, however multiple sessions are usually recommended. Results start to appear about a month after your treatment due to the amount of time your body takes to produce collagen. Benefits can be seen for 1-2 years in many clients.
How do I prepare for my PiXel8 RF procedure
Prepping your skin for advanced treatments such as PiXel8-RF microneedling is important for your results. Alastin products such as Restorative skin complex has Tri-Hex technology that clears out the damaged, old collagen under the skin and makes room for new healthy collagen to be produced. This product has Orathine and Hexapeptide 38 to help restore volume to thinning skin and to improve elasticity, therefore giving you the best results with your treatment. Stopping all retinol/retinoid products are recommended for at least 48 hours prior to treatment. Avoiding direct sun exposure is also important when getting any laser or microneedling procedure.
Are there specific aftercare instructions to follow with PiXel8-RF
Although there is little to no downtime with this treatment you will notice some redness and slight swelling for some clients. Most importantly keeping your face or treatment area very clean. Be aware of not applying your dirty phone to your skin. Glasses should be disinfected prior to you putting them on your face. A clean pillowcase is also highly recommended post treatment. If you have pets do not allow them to lick or rub up against the treated area. Retinol/retinoid should not be used for 7 days after treatment. Skincare such as the Alastin skin complex is great to apply post procedure. It is also highly encouraged to avoid sun exposure since the skin is sensitive and healing. Reapplying sunscreen every 2 hours is also necessary.