FDA Approved
Tested and approved.
We use only authentic products.
Non-Surgical
Radio-Frequency Treatment that works from the outside in.
Fast Results
Little to no downtime and results in a few weeks.
How does Emsculpt work?
Emsculpt is the first aesthetic device to build muscle and sculpt the body. Emsculpt uses HIFEM (High intensity focused electromagnetic energy) for body sculpting. A single emsculpt session results in thousands of muscle contractions which would never be attainable in a single workout session.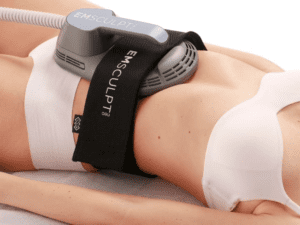 What areas can be treated with Emsculpt?
Emsculpt is FDA approved for buttocks, abdomen, calves, biceps and pectoralis muscles. This revolutionary treatment can also be used on other areas in which you may desire more muscle tissue as well.
How is Emsculpt different than other fat removal procedures?
Emsculpt is different in that it contracts the muscles in the treatment area and so it, in turn, may result in a reduction in fat cells however the primary benefit of this machine is for muscle building. Another difference is that Emsculpt is a non surgical procedure. Unlike a tummy tuck surgery, there is no downtime with Emsculpt treatments.
What results will people see after Emsculpt?
In the clinical studies results were shown at the 90 day mark. People noticed a 19% improvement in abdominal muscles, gluteal muscles and other areas after their Emsculpt sessions. Results start to show after four treatments. Incorporating a heathy diet also improves results.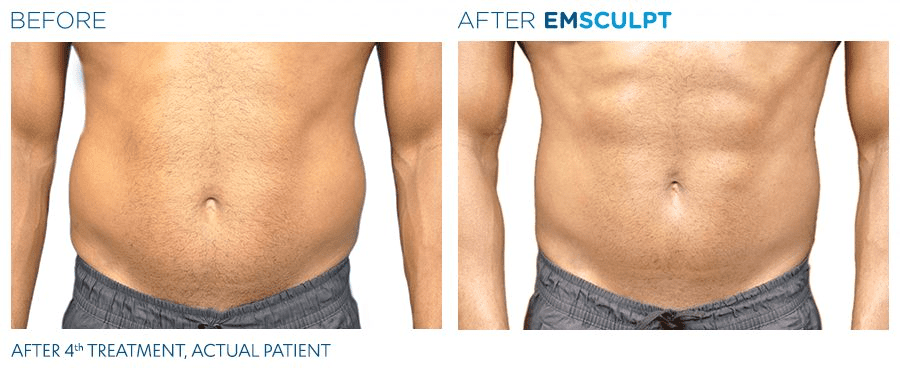 Can I really get a non surgical butt lift from Emsculpt?
We have seen some great results with Emsculpt in lifting the buttocks in Scottsdale. Make sure to check out our instagram for before and after photos of this body contouring treatment. In some cases a combination of Sculptra, Radiesse and Emsculpt can give the best results.
How long does Emsculpt take?
Each emsculpt session takes 30 minutes per area.
How many sessions of Emsculpt are recommended?
As with any aesthetic procedure, it is best to talk to your healthcare provider about your individual goals and come up with a treatment plan. Usually a series of 8 treatments are recommended twice a week initially with this non invasive treatment.
How long do the results last? Do patients return for more treatments?
Results are best maintained with regular exercise and a maintenance treatments every 90 days.
How sore will I be after my Emsculpt treatment?
Emsculpt treament actually results in less muscle soreness despite more muscle contractions than a regular workout. The reason is the taping that is done inbetween supramaximal contractions which results in a reduction in lactic acid.
How do I prepare for my Emsculpt treatment?
This treatment is ideal for most patients but you should always consult with your medical provider to make sure you are a good candidate. Fit patients, both women and men who would like some extra definition can benefit from Emsculpt and receive positive results. There are no restrictions such as not eating prior to the Emsculpt procedure. We recommend wearing lose fitting close with no metal for your Emsculpt treatment in Scottsdale.
Are there any contraindications to treatment with Emsculpt?
Women who are pregnant should not receive Emsculpt. Patients with a pacemaker or defibrillator or a copper IUD may not be candidates for this non invasive body treatment.
Do I have to be a certain BMI to get Emsculpt?
There are no set BMI requirements for Emsculpt. You do not have to be at your ideal weight in order to receive an emsculpt treatment however many patients in the clinical studies were within 15 pounds of their ideal BMI.
How much does Emsculpt cost?
Emsculpt pricing can vary widely based on your treatment plan. We start our packages at six sessions as four sessions tends to not yield enough results in the abdomen and other body areas.
Emsculpt Introductory Pricing
6 Sessions for $2200
8 Sessions for $2800
12 Sessions for $3600
Emsculpt Maintenance Session
$600
Emsculpt Before & After Photos