FDA Approved
Tested and approved.
We use only authentic products.
Non-Surgical
Injectable Treatment.
Fast Results
Little to no downtime and visible results in a few days.
What is Xeomin?
FDA approved. Clinically Proven.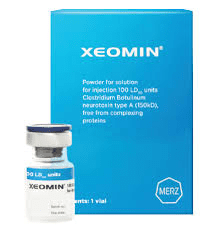 Xeomin® is made through a unique precision manufacturing process called XTRACT Technology™, that uses two filtration steps to isolate the therapeutic component of the molecule and removes the complexing/unnecessary proteins that don't play an active role in treatment. Xeomin is a double filtered neurotoxin and an appropriate medical therapy for many patients who want a more natural option.
What is Xeomin used for?
Facial lines you want to disappear
Xeomin is a prescription medicine that is injected into muscles and used to improve the look of moderate to severe frown lines between the eyebrows (glabellar lines) in adults for a short period of time (temporary). Frown lines form when facial expressions are made as the muscle under the skin contracts. Over time, as your skin ages, these repeated expressions cause lasting frown lines. Neurotoxins, such as Xeomin, are prescription medications that block the release of chemicals that cause these muscle contractions so frown lines are softened.
Although Xeomin is FDA approved for frown lines, a variety of other uses for botulinum toxin products have been shown to be effective such as treating crowns feet, forehead lines, platysma muscles, neck pain, upper limb spasticity and cervical dystonia.
How long should Xeomin last?
You may begin to see visible smoothing as early as 3-4 days after injection. The median first onset of effect was less than a week. The maximum effect occurred at 30 days. The typical duration of effect was up to 3 months in clinical trials but may last significantly longer or shorter in individual patients. Treatment results range from three to six months. It has a long-lasting effect akin to Botox. Then after three months, patients can consider returning to their treatment area for a repeat Xeomin treatment. Optimum dose tends to be associated with longer duration for Xeomin treatment.
Xeomin Before & After Photos
| | |
| --- | --- |
| Xeomin Less than 40 Units | $12/Unit |
| Xeomin 40 Units or more | $10 /Unit |
Xeomin FAQ's
Will Xeomin injection make me look fake?
Looking plastic or overdone is a common concern among individuals considering an in-office treatment in Scottsdale for moderate to severe frown lines with Xeomin. Talk to your licensed, trained, healthcare professional to see if Xeomin may be right for you. There are steps you can take to make you feel more comfortable. First, have a detailed discussion with your provider. You want to talk through every concern you have, until you feel comfortable. Your provider, who is experienced in facial anatomy, can determine the right options for you such as a botulinum toxin like Xeomin. For example, the most widely used procedure for moderate to severe frown lines is neurotoxin injections, a class of prescription medication that has been shown to be effective in many studies. Finally, ask for an FDA-approved product, such as Xeomin®. Individual results may vary.
Is Xeomin as good as Botox?
Both Botox Cosmetics and Xeomin have shown similar results in reducing frown lines. Xeomin was originally FDA approved in 2010. Many of the potential side effects of both botulinum toxin products are similar such as muscle weakness, injection site pain, and allergic reactions.
Who is not a candidate for Xeomin?
Before your xeomin treatment talk to your provider about your individual health history. Health history that should be discussed with your healthcare provider includes use of antibiotics, chronic sialorrhea, movement disorders, amyotrophic lateral sclerosis, taking muscle relaxants, and lactation pregnancy. Having a history of allergic reactions with botulinum toxin products such as Xeomin would also make someone a non-candidate. This list is not all inclusive.
How much does Xeomin cost in Scottsdale?
Pricing on Xeomin varies in our Scottsdale clinic based on the number of units needed. In general most patients need about 20 units per area for the forehead lines or glabella (frown lines) of botulinum toxin. The number of units of Xeomin can vary based on the facial muscles and so we always provide a consultation prior to xeomin injection to discuss how many units are best for you.
How many injections sites are typically used per area for Xeomin?
This is a common question people ask when getting a botulinum toxin treatment. Injection site markings are made prior to injection and initial dose determinations can be made by the provider at the consultation. In general 5-7 injection site markings will be made in the glabella, 4-15 injection site markings will be made in the forehead, and 3-5 injection site markings will be made in the crows feet. Injection site pain is very minimal due to the use of a very small suitable sterile needle with Xeomin.
How do I prepare for my Xeomin Procedure?
Prior to your botulinum toxin treatment we recommend stopping any supplements or medications that thin the blood for a week prior to prevent excessive bleeding and bruising at the injection site. This could include fish oil, NSAIDS such as Aleve or Ibuprofen as well as other herbal supplements. We recommend talking to your medical provider before stopping any prescription medication. 24 hours prior to your appointment we also recommend not drinking any alcohol. If you are sick or on antibiotics please discuss your individual health concerns with our office prior to xeomin treatment as is may not be an ideal time to be treated with botulinum toxin.
Is there downtime with the Xeomin procedure?
After your Xeomin treatments you may have some slight swelling at the injection site with a "bee-sting" appearance. For most patients the skin returns to normal within a few hours following xeomin treatment.
Is Xeomin treatment painful?
Most patients report little pain at the injection site with xeomin treatment. A very tiny needle is used to treat affected muscles. Topical numbing cream can be applied in our Scottsdale office if a patient is worried about discomfort, but most patients do not need numbing cream for their botulinum toxin/xeomin treatment.
Are there risks or potential side effects with Xeomin treatments?
The most common side effects with Xeomin include pain, swelling or bruising at the injection site as well as headache and flu like symptoms. These side effects were temporary. More serious side effects can include, but are not limited to, dry eye, drooping, blurred vision, muscle weakness and allergic reaction. These side effects are consistent amongst all botulinum toxin type products. Treatment with Xeomin in pregnant women has not been established and therefore pregnant women should not be treated. Please discuss any medical conditions with your provider, other drugs or previous allergic reactions with your provider prior to your Xeomin treatment.
I have heard Xeomin and other botulinum toxin products can be used to treat tight muscles, can you tell me more?
Xeomin and other botulinum toxin type products have been used to treat conditions such as cervical dystonia, upper limb spasticity and neck pain for many years. At your Xeomin treatment session make sure to review your symptoms with your provider prior to your medical therapy. A review of the potential benefit justifies treatment should be discussed. Involved muscles should be considered for treatment as well with xeomin.
Will Xeomin help with migraines?
Botulinum toxin products such as Xeomin and Botox have been found to be an effective option in treating migraines. Talk to your provider about your symptoms to see if Xeomin or another botulinum toxin might be right for you. Proposed injection site areas for Migraines include the forehead, glablella, temporalis muscles, back of head, and trapezius muscle with bilateral injections.
Can I use Xeomin while breast feeding?
As with any botulinum toxin products, clinical trials have not been conducted to show whether Xeomin may be harmful if transferred to a child through breast milk.