FDA Approved
Tested and approved.
We use only authentic products.
Non-Surgical
Same day simple injectable treatment.
Fast Results
Little to no downtime and results in a few weeks.
What is Botox?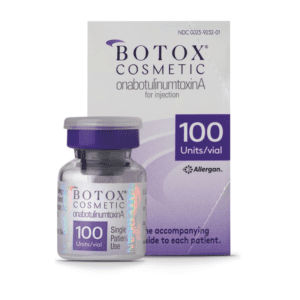 Botox Cosmetic is FDA approved to improve the appearance of moderate to severe frown lines, crow's feet and forehead lines. Botox is an injection that treats the underlying cause of facial wrinkles, repetitive muscle contraction. Once injected Botox begins to work within a few days and a more youthful appearance occurs from this prescription medicine.
What is Botox used for?
Botox is used for frown lines, crow's feet and forehead lines for on-label use cosmetically. There are actually hundreds of uses for Botox such as to treat chronic migraine, severe underarm sweating, bruxism (grinding) or tension. During your consultation, talk to your provider about your aesthetic goals as well as medical conditions that you may want to treat with Botox. Megan Davies FNP-BC, CANS is trained in many uses for Botox. If administered incorrectly there is potential for side effects, therefore it is always important to seek an experienced provider. Megan has been injecting Botox and other neuromodulators since 2013.
How long does Botox last?
Botox generally lasts between three and four months, however some patients report Botox lasting from two months to up to six months.
How much does Botox cost?
Pricing on Botox varies in our Scottsdale clinic based on the number of units needed. In general most patients need about 20 units per area for the forehead lines or glabella (frown lines). The number of units can vary based on the facial muscles and so we always provide a consultation prior to injection to discuss how many units are best for you.
| | |
| --- | --- |
| Botox Less than 40 Units | $13 |
| Botox 40 Units or more | $11 |
| | |
Botox Before & After Photos
Botox FAQ's
Are there risks or potential side effects with Botox cosmetic treatments?
The most common side effects include pain, swelling or bruising at the injection site as well as headache. These side effects were temporary. More serious side effects can include, but are not limited to, dry eye, drooping, blurred vision and allergic reaction.
How do I prepare for my Botox Procedure?
Prior to your treatment we recommend stopping any supplements or medications that thin the blood for a week prior. This could include fish oil, NSAIDS such as Aleve or Ibuprofen as well as other herbal supplements. We recommend talking to your medical provider before stopping any prescription medication. 24 hours prior to your appointment we also recommend not drinking any alcohol. If you are sick or on antibiotics please discuss your individual health concerns with our office prior to treatment as is may not be an ideal time.
Are there any contraindications for receiving Botox?
Women who are pregnant or breastfeeding should not receive botox injections. Also if you have an allergy to Botox you should not receive Botox. Certain medications such as antibiotics or medications for Myasthenia Gravis medications may interact with treatment. During your initial consultation you should talk to your provider if you have any medical conditions including seizure disorders, or any muscle or nerve disorders.
Is there downtime with the Botox procedure?
After your Botox treatments you may have some slight swelling at the injection site with a "bee-sting" appearance. For most patients the skin returns to normal within a few hours following treatment.
How soon following my Botox Cosmetic treatment in Scottsdale will I see results?
Most patients start seeing improvement in their forehead wrinkles, crow's feet and other treatment areas within a few days. Optimal results will be seen at two weeks with smoother skin and less wrinkles.
Is Botox treatment painful?
Most patients report little pain with botox treatment. A very tiny needle is used to treat crow's feet and other areas of the skin with wrinkles. Topical numbing cream can be applied in our Scottsdale office if a patient is worried about discomfort, but most patients do not need numbing cream for their botox cosmetic treatment.
When should I consider dermal filler versus Botox injections?
Botox cosmetic is used for moderate to severe frown lines, crow's feet, and forehead lines. Areas of deeper facial wrinkles such as nasolabial folds, in which there is volume loss, would benefit from a dermal filler versus a botulinum toxin.
I have heard of other brands of botulinum toxin, why should I chose Botox Cosmetic?
Botox Cosmetic has been used to treat frown lines, crow's feet and forehead lines for over 30 years. Botox Cosmetic was actually approved by the FDA in 2002, however it was used "off-label" and for therapeutic use (such as to treat chronic migraine) prior to FDA approval. Millions of botox treatments are performed each year for moderate to severe wrinkles. Much research has gone into Botox, resulting in predictable results. As always we recommend a consult with your aesthetic provider to review the botox results you are looking for.
There are a million providers I could choose for Botox injections in Scottsdale, why choose DHH Med Spa?
Our business was established in 2015, performing botox scottsdale treatments to thousands of patients. The owner, Megan Davies, is one of only approximately 400 nurses that are board certified in aesthetics in the United States. Megan has been performing botox injection on facial muscles since 2013. Megan also has established a school in which she trains other nurses and healthcare professionals on treatments such as botox and dermal fillers. Megan has also won the award of "Best Botox in the valley" multiple years. Come see what your skin has been missing!
I have heard Botox can be used for excessive sweating, can you tell me more about that?
Botox can be used to treat excessive sweating, aka hyperhidrosis. Areas that are commonly treated are the scalp and underarms. Other areas of excessive sweating can be treated as well such as hands, feet, face or under the breast. Injection depth is different for hyperhidrosis treatment so it is important to seek out a professional who is trained in this procedure. In our scottsdale office, Megan is trained in this procedure, as well as many other advanced techniques. Results tend to last longer than a cosmetic treatment and many people then just need a yearly maintenance treatment of botox injections.