FDA Approved
Tested and cleared.
We use only authentic products.
Non-Surgical
Radio-Frequency Treatment that works from the outside in.
Fast Results
Less pain and quick recovery.
What is Aquagold?
AquaGold Fine Touch, a patented gold-plated hair-fine needle system that painlessly delivers custom solutions into the skin at the ideal 600 micron depth is the perfect treatment in our Scottsdale office. Benefits of aquagold include a reduction in pore size with micro-Botox, smooth skin with dermal fillers (hyaluronic acid), improvement of superficial acne scarring and silky smooth texture. This procedure is pain free and requires very little downtime. Each client will leave with a more vibrant appearance following an aquagold fine touch procedure.
What does Aquagold facial do?
This Aquagold Fine Touch treatment targets fine lines and wrinkles, skin texture, acne scars, enlarged pores, and pigmentation for the most visible results. Patients see a reduction in oil production, skin luminosity, fewer wrinkles and improved skin quality. It is almost as if it is a cross between injectable treatments (dermal fillers and botox) and microneedling. Tiny needles are manually applied to the skin to create multiple injections on the skin's surface.
How does Aquagold differ from microneedling?
Aquagold is known as a micro channeling treatment or a micro infusion treatment. It is different from a micro needling treatment in many ways.
Aquagold is virtually a painless skin treatment.
Aquagold is can treat sensitive skin areas such as the undereyes or the neck with ease due to the fine needles.
There is no downtime, bleeding, or prolonged sensitivity as seen with other typical micro needling treatments.With traditional microneedling or laser treatments downtime can last a week or more and may not be suitable for each skin type. With Aquagold fine touch almost any skin type can benefit from this procedure.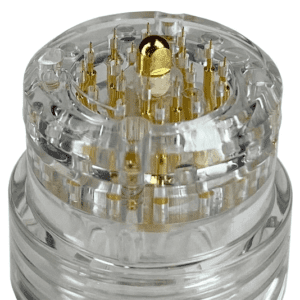 How long does an Aquagold facial take?
An Aquagold facial treatment should take no more than hour. Each patient's skin will be numbed topically for 30 minutes before proceeding to the Aquagold treatment. The Aquagold device is manual and hand held. This treatment is a good option for those with damaged skin are who are looking for non invasive anti aging treatments. As always an initial consultation is recommended to go over your treatment options and concerns.
What is the cost of an Aquagold facial?
The cost of the Aquagold treatments will vary on the personalized cocktail that is created for you. Each treatment plan will be customized to fit the desired results of each patient. Aquagold facials may contain filler or hyaluronic acid, a neurotoxin such as Botox, vitamin B12 and Platelet rich plasma (PRP). Depending on your concerns such as crow's feet, fine lines and wrinkles other treatment options may be recommended at the same time.
Aquagold Before & After Photos
Aquagold Facial FAQ's
What can I expect after an Aquagold facial treatment?
Since the personalized serums are delivered through micro gold plated needles this treatment can be scheduled without having to worry about downtime. In fact, many patients schedule this treatment in order to prepare for upcoming important events. This is a minimally invasive and comfortable procedure that requires no downtime. Most patients leave the office with a super hydrated, glowing complexion. While results are seen almost immediately they will continue to improve in the coming days and weeks. Patients report a reduction in oily skin and deeper wrinkles as well as an increase in skin hydration, skin tone and facial volume. Some patients may see mild redness following the treatment but that will disappear within an hour after treatment or so. As with any aesthetic procedure the use of sunscreen post procedure is recommended.
What areas can be treated with aquagold fine touch?
Aquagold fine touch is typically used to treat the face, neck and décolletage however anywhere there is skin fine touch could be used. We recommend always treating the face and neck as the cartridge is being opened and there are benefits to treating both areas.
Is aquagold fine touch better than Botox injections?
Aquagold fine touch can help with fine lines and wrinkles, however consider that botox injections go deeper into the muscle while aquagold fine touch works more superficial in the skin. Often these treatments work together, however if you are not wanting to receive botox injections this may be a good start for you.
Aquagold fine touch versus Dermal Fillers (Juvederm, Belotero, Restylane)
Dermal fillers work by plumping and providing volumization. Aquagold fine touch can provide more superficial hydration and plumping of fine lines however for deeper volume loss dermal fillers are usually the best option.
Do I need multiple aquagold fine touch treatment to see results?
As with any procedure, your provider should discuss your individual treatment plan goals. This procedure does produce results after only one session and that is why it is considered a "red carpet procedure" however after several treatments spaced 3-4 months apart even better results will be seen due to the increase in collagen production.
What products can I use after my Aqua gold fine touch procedure?
During your initial consultation your provider can recommend a skin care regime that is best for you, based on your skin quality, skin tone, as well as other factors. An important product post aqua gold procedure that recommend is the tone smart sunscreen by Skinbetter Science in Phoenix, Arizona. This product can be ordered on our store website or also in office.